A bulkhead is a nautical term to describe any vertical wall that isn't the hull/cabin top. These may be structural, or merely a way to compartmentalise internal space. As boats become more open plan, we tend to have less walls dividing the space but they are always a significant square footage of surface area. You can maximise the storage capability of your boat by making use of the bulkheads.
In this blog I will go through some good ways to use the space. A lot of this is things you can buy or make at home. You don't need to be an expert to make the most of bulkhead walls. So, if lack of storage is driving you up the wall, then read on!
---
Space: Bulkheads
Size: Widely varied. Generally half or full height (900mm or 1800mm) tall. Widths from 400mm to 3000mm
Type of storage: Shallow storage. Good for pre-made items as it's typically vertical. Shelving, hanging and racking. Nothing that sticks out too far
Suitable for: Books and trinkets, but also great for hanging kitchen items and such. Coats, bags and boots. It is also useful for 'active' use, like a draining rack. It's a dry internal area, so anything that will fit
Materials: Almost anything, especially if it is off the ground. Damp shouldn't be an issue so pretty much anything goes
Difficulty rating: Very easy. The flat vertical surface lends itself to almost anything you would do in a home so "off-shelf" items will readily fit, as well as being prime for upcycling and DIY
---
After the cat, I think one of our favourite things on the boat is the draining rack. My partner found it on eBay and it revolutionised our washing-up. It's small. Only a couple of square feet. It can hold an amazing amount of crockery and cutlery though. For a fairly cheap internet purchase it has made the space in the kitchen feel so much bigger. It's wall mounted and has a drip tray underneath so we don't lose any worktop space. With three tiers it can hold loads. A really handy addition.
On the other side of the kitchen we have more bulkhead storage. This is simple. The idea is the same as our curtain rails. Copper pipe and Munsen clips. A touch more advanced on the DIY front, but still an easy beginner job. Hanging items is great for pans, spatulas, sieves etc. This takes a lot of clutter off the side and can be more flexible than shelving, with large items hanging vertically. If you hang some baskets off them you could put pretty much anything here. Elsewhere in the boat we have used the same idea to hang our kindling basket, hats and gloves basket, you could even have a cat basket for your feline friend.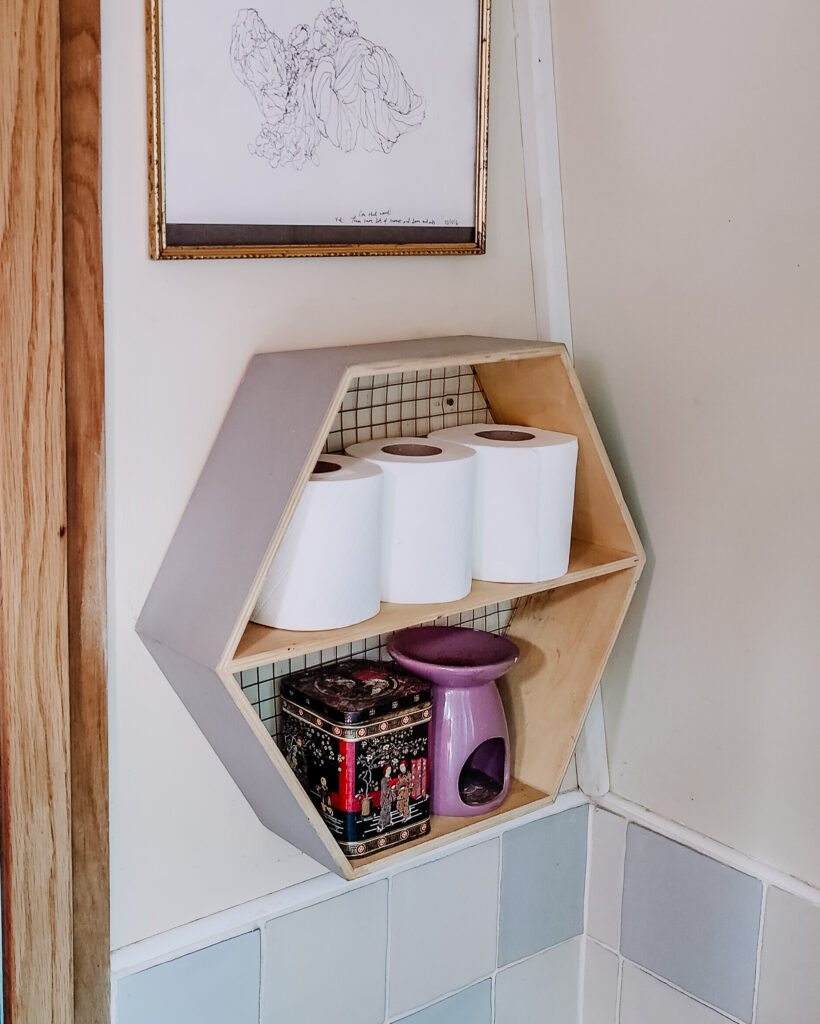 Walls are great for hanging pre-made items to use as storage as bulkheads are mostly plumb. It is easiest when they are vertical walls unlike the sides of boats which can be almost any angle. You can get lots of interesting pieces, very cheaply, and with a few screws you've got extra shelves. An example of this on our boat is that we use a cute little hexagon shelving unit from my wife's old flat to store bathroom items, we have plenty of space to stash toilet rolls and a bottle of room freshener spray. The latter is important when you live in a small shared space. Anything like this can be fitted to the wall for instant storage.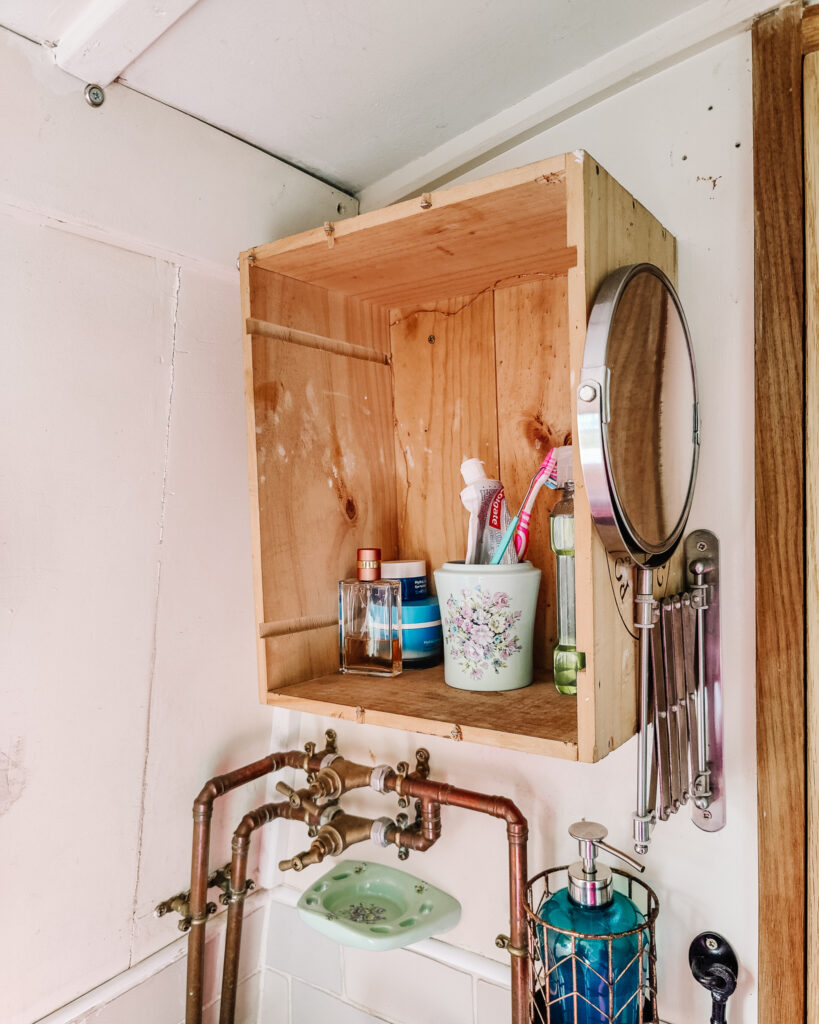 Upcycled items are cheap, fashionable and can add character to a boat. While the inside is our 'medicine cabinet' as it were, the top is space to hide away more bits and bobs. Spaces like this this help keep sides clear. A clear side makes a small home feel more spacious. Clutter can be oppressive. We aren't always the best at keeping things tidy, but having a home for things helps.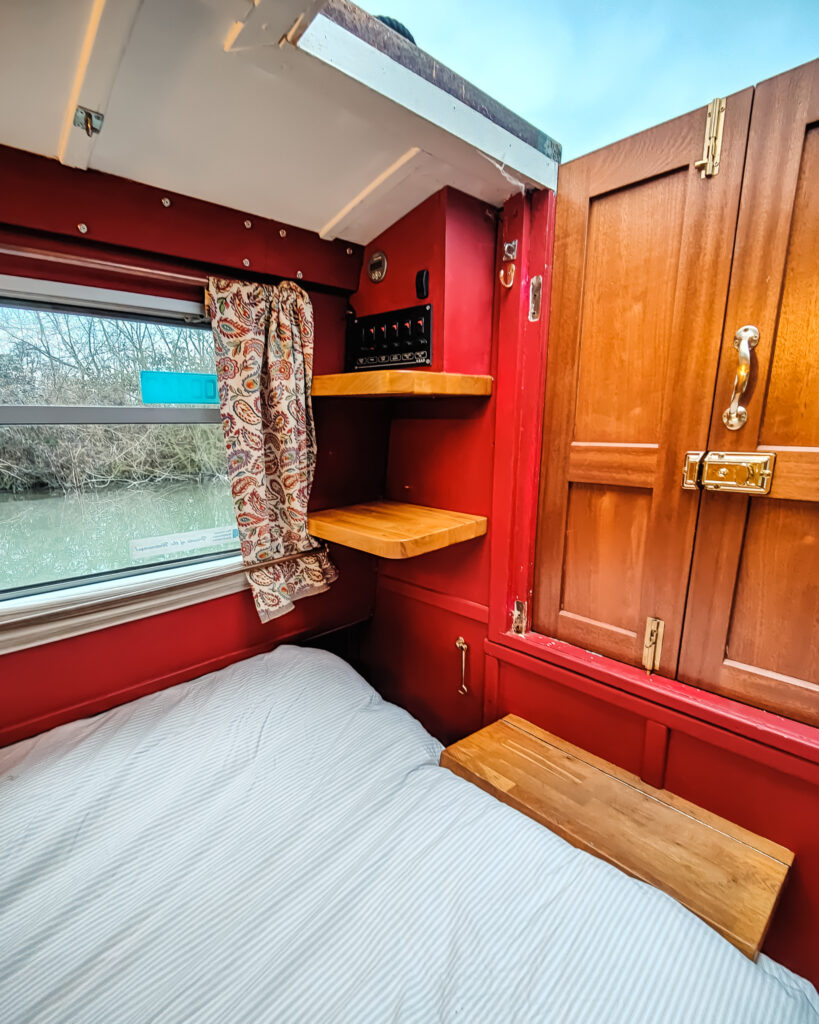 If you have the space for some custom shelving then you can really go to town. Wide beams especially have big open bulkheads. The sky is the limit here. Any material, any design. You can have book shelves, display shelves, even a full home entertainment wall. Open shelving is great, but you could also have cupboards if you have the space. We have two cupboards in the front of our boat. It does take some of our lounge space, but without them we wouldn't have any hanging space.
In a wide beam then a bulkhead of full height cabinets across the boats can make a real statement, especially in a dark colour. Like a feature wall, but more useful. Using interesting materials can make for some gorgeous pieces. I love industrial and steam punk looks, as well as drawing on the natural beauty of wood and metal. Scaffold board, as made famous by East London coffee shops (excuse the tongue in cheek joke) looks great stained and varnished. It's a lot cheap than slices of hardwood live edge timber. With some well chosen brackets it looks great. We have also used veneered ply to good effect, finished with a hardwood lip.
There are loads of ways to DIY your bulkhead storage. I think it might be the most approachable off all the spaces in our series. It certainly has a wide spectrum of uses. Why not upcycle some shelving, or plan out an intricate Welsh dresser style steam punk creation from reclaimed timber and oversized copper piping! Make sure you make the most of this prime boat real estate and if you want something really beautiful and practical then why not get in touch, let us design something just for you.