This was an almost complete re-fit that we did for a narrowboat in East London. We'll largely keep to the pretty bits here, but there was some serious foundation work to do. The bilges had been ballasted with pea shingle, most of which was still in the bilge, and it all had to be removed. Once the floor was up and it was out the bilges had to be cleaned, treated, painted, re-ballasted and the new subfloor laid. See my Dan's DIY Tips for more on cleaning and painting bilges
We also had the walls down to deal with sub-standard insulation and lining, so by the time all this was finished the innards of the boat were basically brand new! New ballast and subfloor, new insulation and new lining and trims, a lovely blank canvas.
To this empty shell, we added a lovely oak engineered floor throughout, to match the existing flooring in the bedroom. This had previously been re-fitted the year before by another contractor and we had built a wardrobe.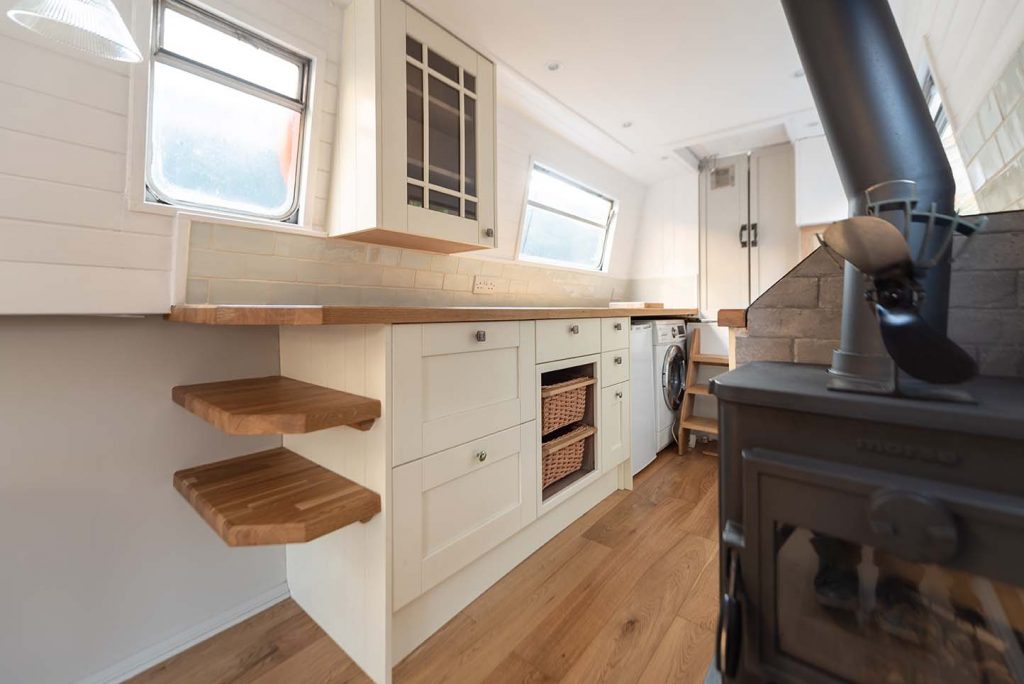 The crowning glory of the boat is probably the kitchen, as it is with many boats and homs that have a nice kitchen. This one is a Howdens Tewkesbury kitchen that we have customised in places to fit the space. An off shelf kitchen can work very well in a boat, I am hoping to add some thoughts and tips on Kitchens in our blog posts. The worktops are oak butcher's block which we simply added a bevel to the edge of the tops. The took a corner off the end of the long side for ergonomic reasons and the offcuts provided from the other side some neat additional shelving which we gave a matching detail.
The electrics were completely rewired by Katy Bartlett of Down to Earth Sparks. The workings of the electrics are hidden away in the corner behind a custom cupboard built with a combination of solid oak and oak veneer to match in with the tops. Katy regularly works alongside us on projects and did a beautiful job rewiring and upgrading the electrical system throughout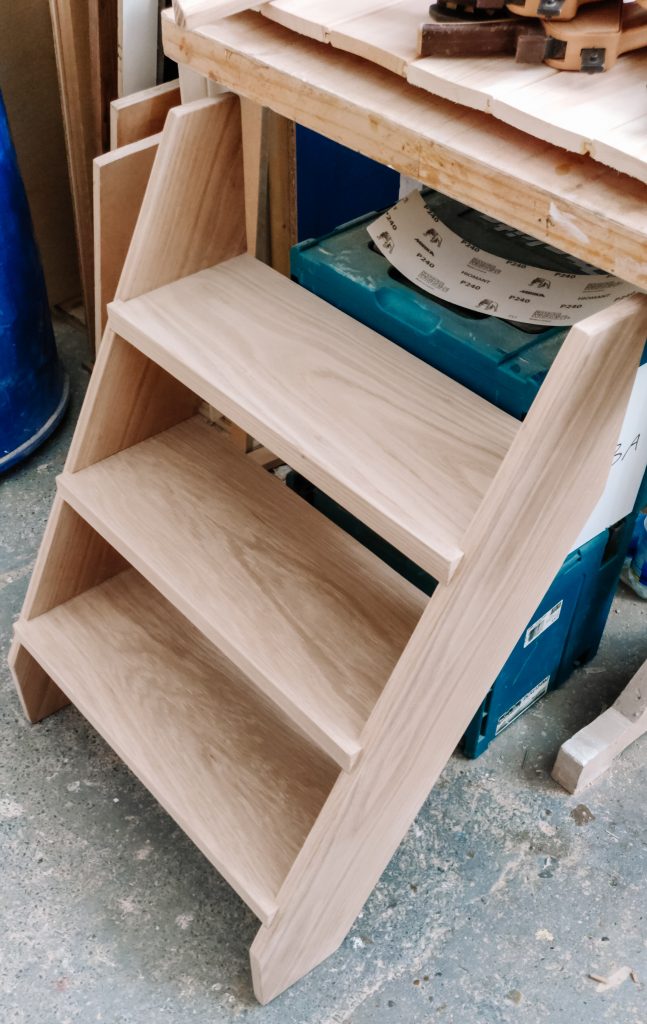 The stern steps we replaced with a solid oak set of open tread steps. The original plan was to build to a form to allow acces to the washing machine, but ultimately it was decided to just make a them light weight and easy to remove so full access was easily gained without compromising on the struture of the steps.
There are myriad little details and alterations I could list out from the works. We also did some upgrades to the bathroom and the bedroom, the wardobe having gone in the previous year. We ripped out the bath and replaced the floor beneath. The bath went back in and we re-tiled the area and added some custom cabinetry and a screen to the bath tub. If you would like to know more about options and possibilities for kitchens and bathrooms then why not get in touch. Or also check out my blog(s) on home/boat improvements in Dan's Random Ramblings