This project was a commission for a client who needed a London base for when life and work brought them to the capital. They wanted a comfortable and modern feel, relaxing and low maintenance. It helps that it is on a mooring, so electrics and plumbing are simplified by having utilities and facilities close at hand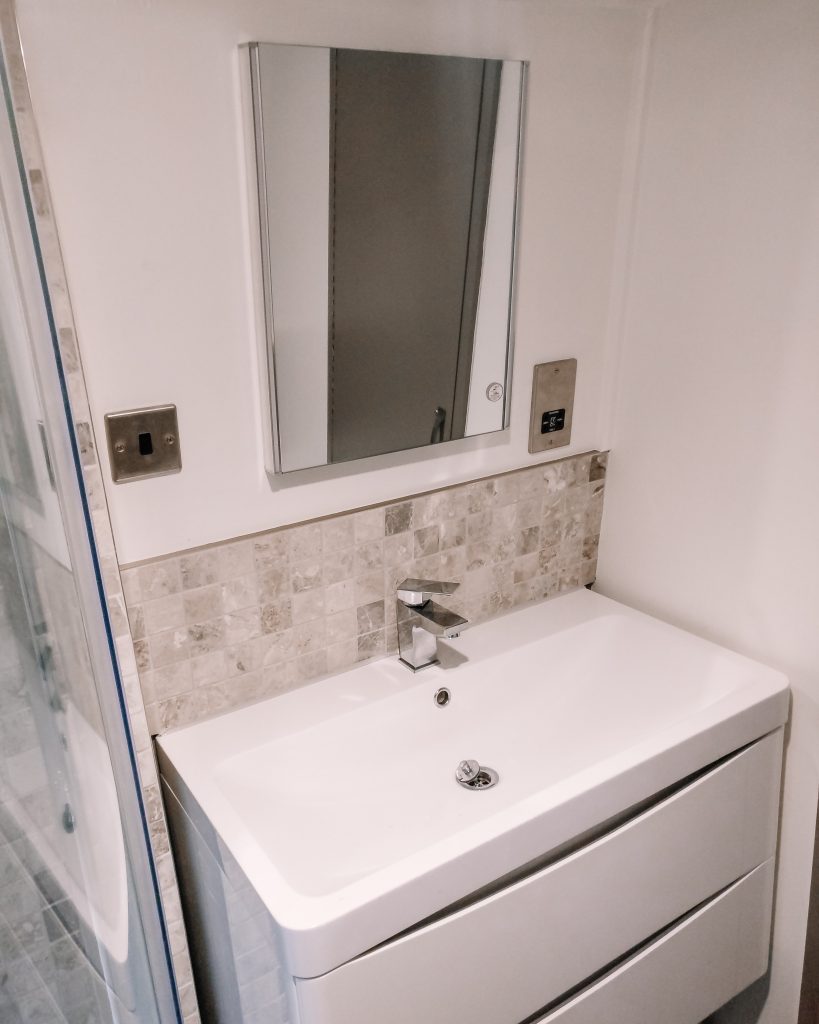 The boat had sunk under the stewardship of the previous owner and while the hull and engine were still sound, there was water damage to the floor and fit out so the whole thing needed starting from scratch. We did a sizeable amount of remedial work to get to a point of having a blank canvas. This included, but was not limited to, removing the flooring from half the boat, drying and sorting the bilges, removing several bulkheads and removing the black water tank. If you want tips on removing a black water tank, then you can read more in my Dan's DIY tips section 'It's a S**t job'
The brief was to make a contemporary and easy to care for space, as much like a modern flat as possible. This was to be a home from home while in London, not a CC'er or a holiday boat. The chosen finishes are all very modern, the colour pallet neutral and soothing.
We fitted a Benchmarx kitchen, I'll try do tips post on kitchen fitting sometime soon. This was given oak butchers block worktops, from worktop express. The oak tops are excellent value for money, though you do need to take a little care to look after wooden tops, but on the plus side they can be refinished where a laminate cannot.
The bathroom is tiled in a Travertine mosaic, with an 'off shelf' vanity and a quadrant shower cubicle from Wesley Marine Windows Ltd. Wesley Marine are one of the few producers of 'short' shower units. They do a range of them in 1600-1800 which lets you fit in a proper feeling shower enclosure within the restricted height of a narrowboat. You could have a shower enclosure made bespoke, but this would cost a lot more.
In the bathroom a bench style Thetford cassette toilet was chosen. It is very easy to use with its wheel along cassettes. This mooring has an elsan point on site, so a cassette toilet is a good choice. Read more about toilets in our toilet blog post! Essential boater reading matter.
For the bedroom we made a fully bespoke suite, with drawers beneath the bed for storage and a more drawers at the end with a hanging space above. This little area also serves as a dresser with an offcut of worktop making up a dressing table, with a power socket set into it for easy use of a hair dryer or other items. The boat itself was chosen by the client to be wired up largely as a 240V boat, running off the shoreline, though it does also have 12V sockets and lights so it can be used away from the home mooring.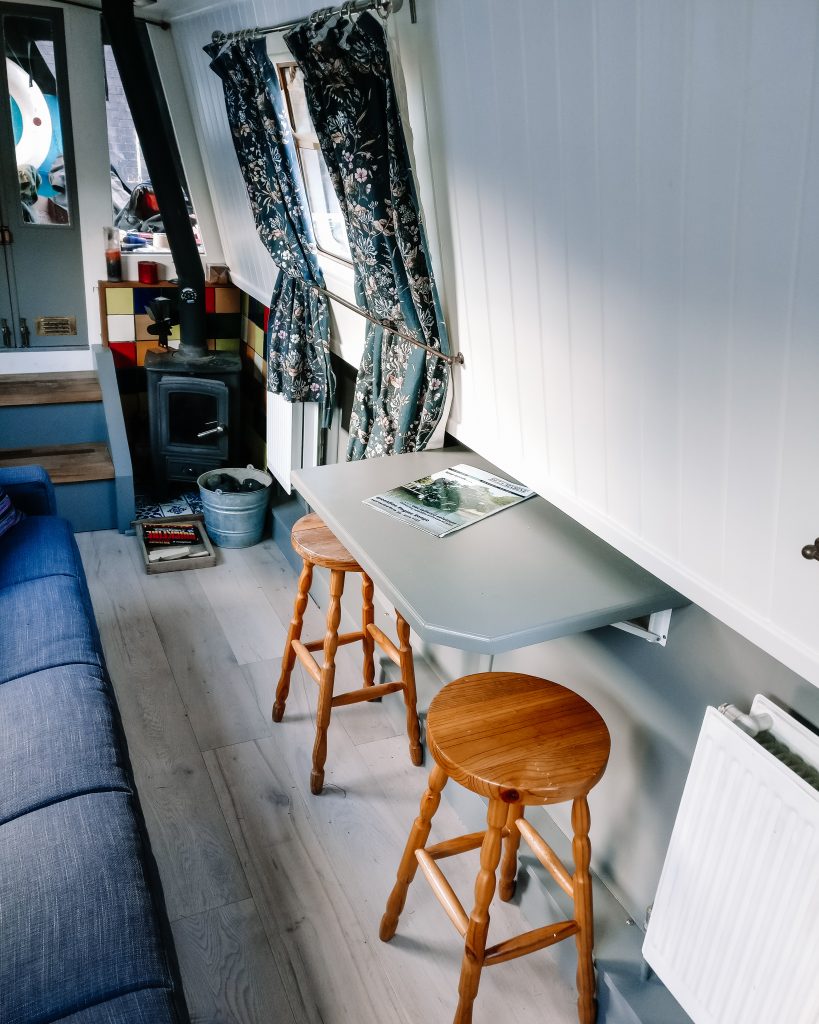 The colour scheme is a gentle grey and white, very popular at the moment and I think it is calming as well as elegant. Everything was painted by us, in an acrylic water-based paint. This is a good durable paint. It can be wiped clean of light stains and marks and has a certain degree of resistance to water and humidity. A satin finish water-based paint will not be as durable as a high gloss, but it feels a bit more modern and is easy to work with and apply.
In conclusion then, this is a delightful little boat that should hopefully serve the owner well for many years to come. It shows a narrowboat can be comfortable and modern, I hope this is a relaxing and pleasant space for the client and they enjoy it whenever they stay there.