This is one of our largest purely carpentry jobs to date as well as one of the most impressive. The clients needed more space and wanted to turn the stern deck in to a useful, and beautiful, exterior space. It also had to be collapsible so that the boat would still be able to get through tunnels and under bridges when it left it's mooring. This meant all elements more than a foot or so above the boat cabin roof had to be removable with two people. We had weight limits and engineering challenges to consider
After in depth discussion of specification and requirements we produced detailed drawings of the overall wheelhouse and the specific details. The way that the different parts would connect and how the piece would work as a whole. Working out how water would be channelled from the roof and how it would escape from inside, which would still be a exterior area at times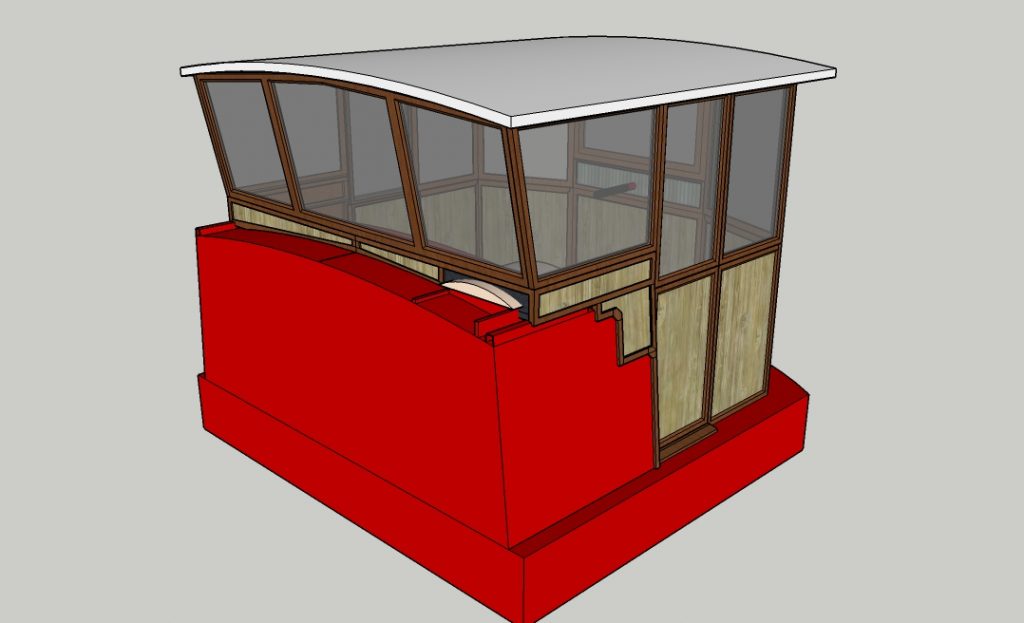 The roof was a challenge. It needed to be light enough that the two of them could remove it between them without assistance. It's quite a big area and they also wanted it to be reasonably strong just in case somebody went clambering across (I can't guarantee it'll take the weight of a person but it'd stand a chance). We chose to split it into several pieces to make manageable weight, though even then at above head height the panels would be weighty. It is constructed from Vekaplan, a lightweight closed cell plastic with smooth exterior, combined with a timber frame. This sits on a skeleton timber frame with integral metal channelling to take water away
As to the overall construction material, the clients chose Sapele. It's a West African hardwood which is relatively cheap, straight grained and very durable. We needed about 2 cubic metres to build the whole wheelhouse. It is a lovely timber and comes up a beautiful mahogany like colour once finished. The fixtures and fittings are all solid brass so that they would be weatherproof even when the roof was down. The brass goes nicely with the red of the timber too, so it's aesthetically pleasing
They wanted as much light as possible, indeed we ultimately swapped out one of the lower panels for glass as well where it was originally timber that it wouldn't block the sunrise on the back door. The upper panels are toughened glass and they let in lots of light. We made sure that there were several opening points so that on a hot day it didn't become a furnace!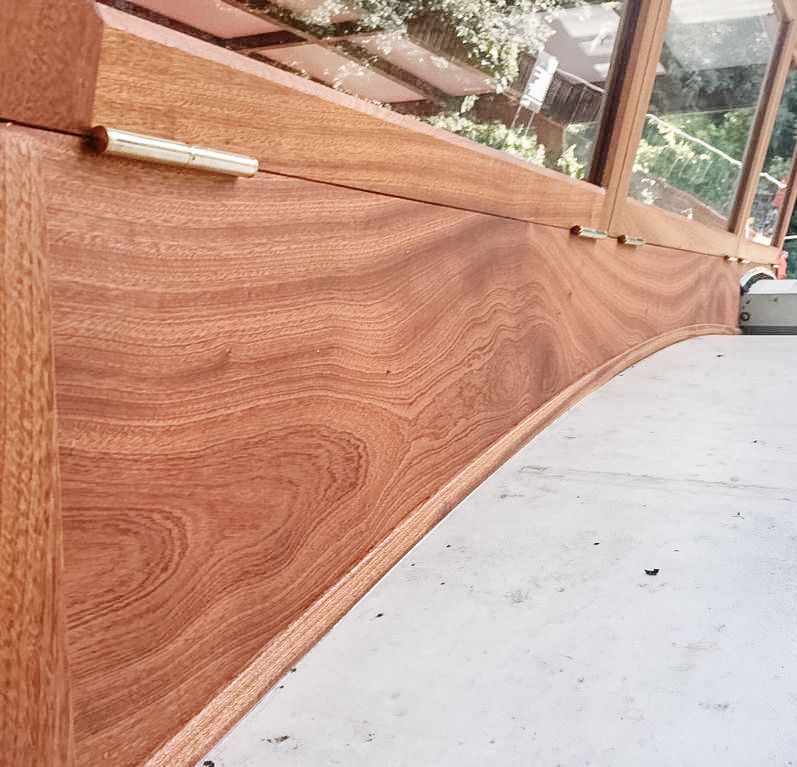 To make it collapsible all the upper row are hinged on to the lower, fixed, panels. This means once the roof panels are off and stacked on to the boat roof you can lower each of the panels. They can also be removed entirely if required as the hinges are all lift off. Speaking of storing the roof on the boat, the curve of the roof was based on the curve of the boat roof so as to produce a sympathetic line with the rest of the boat
Sapele is a naturally durable timber, but to give it greater protection and to save it from discolouring over time it was given two coats of Osmo UV protect exterior hard-wax oil. This should protect it from water and sunlight, not to mention bringing out the beautiful colour and grain of the wood. We could have varnished it and that might have been a more durable finish short term, but it is more difficult to touch up and repair/redo in the future. Oiled timber can simply be given a light rub down and a new oat applied. Varnish is a greater undertaking and so is oft neglected and can end up looking very shabby after time.
The whole wheelhouse is mounted on a metal rail, which is two fold in purpose. By lifting the timber off the floor it should have greater protection from rotting base up. It also gave us the capacity to put some easy drain points in should water get in to the area while it was open. The lower wall of panels was then bolted through this rail in to the underside of the timbers so that it was rock solid
We've done a few wheelhouses and parts of wheelhouses. A couple of the photos (the ceiling and the close up on the detail of the roof end support) are actually from another wheelhouse we built. This is because I didn't have enough good photos of this one. The designs are similar and all is our work. However, of the wheelhouse work we have done this one is still hands down my favourite