5 Storage Drawer Ideas for Narrowboats
Narrowboat Storage Series
As a cabinet maker we joke that all we do is build boxes. Drawers are just a box in a box, but they can help make the most of limited storage in a boat. What you in the thickness of the drawer and runners, you can in utility as easy access makes it a breeze to use the full depth of hard-to-reach spaces. Plus, it makes organisation satisfying and pretty. If I were building my dream kitchen I would have 80% drawers, cupboards just wouldn't cut it. They're great for under-bed storage, beneath dinettes and anywhere you can fit them in around the home.
---
Space: Drawers
Size: From around 200-300mm wide and 400mm deep, to giant drawers over a metre wide, breakfast bars a metre deep and up to 600-700mm tall
Type of storage: Very varied, though typically not over about 1-1.2 metres in the largest dimensions and often much smaller. Generally shallow, though not always
Suitable for: Anything that isn't too long and large. Everything for the kitchen, from crockery to cutlery to pantry items. Clothes, shoes, linen. Toys, books, DVDs
Materials: Varied, though Birch ply, clear lacquer and a soft-close undermount runner for preference
Difficulty rating: Medium to hard. Not for amateur DIYers, but very effective done properly
---
1) Breakfast Bar
My favourite drawer, though it might be a stretch to call it that, is a breakfast bar we did. It's 900mm long and marble. The body is birch ply and the runners are heavy duty locking runners, designed for fire trucks and similar. They can take an even load of 250kg! We were able to fit such a deep bar as it is a Dutch Barge and there was a lot of space under the gunwale, behind the kitchen. It gives a big additional kitchen surface and an elegant table for breakfasting with a loved one.
2) Coffee Station
Here we have my coffee station. My partner arranged this and I love it. It is a good example of how a drawer can help organise and beautify. Everything is together; one drawer for mugs, the next for coffee, filters and other supplies. It is very ergonomic and feels great to use.
3) Pull out bin
Drawers are nothing if not versatile. On the other side of the kitchen we have a pull out bin. It is not glamorous. It is very useful though. With two sections to keep general waste and recycling apart it is clean and green. It's nice to be able to hide the rubbish away and this gives you plenty of space when you are between refuse points, keeping you going as long as possible.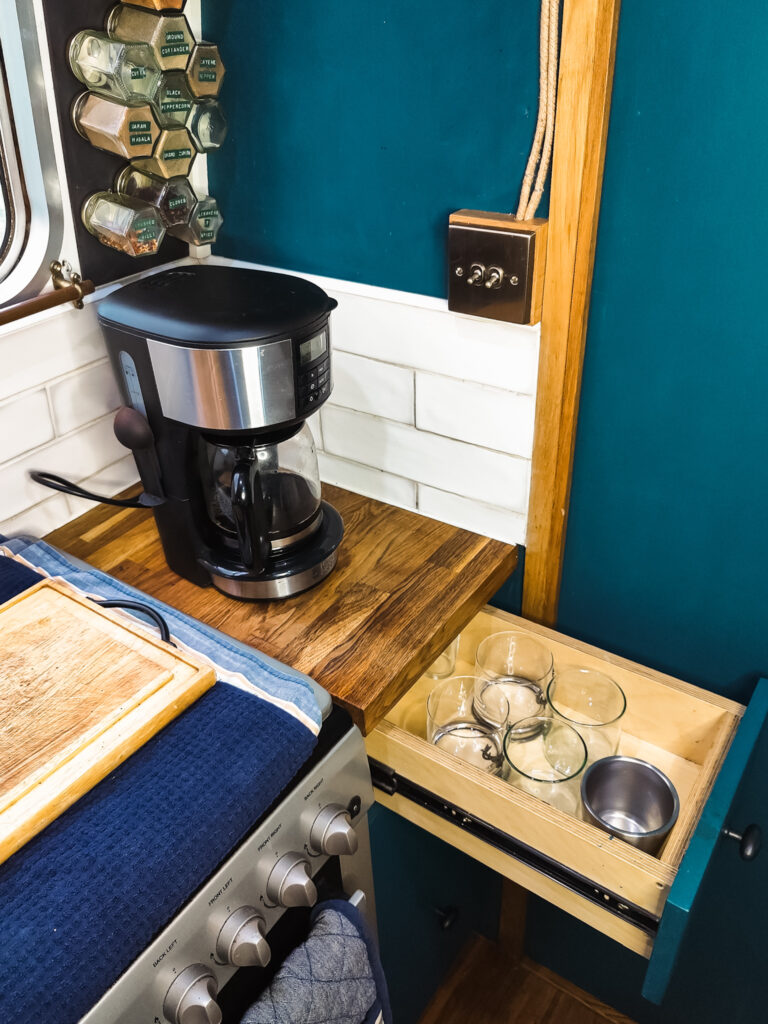 4) Plinth drawers
A relatively new type of drawer, plinth drawers have been growing in popularity. We fit these in pretty much every kitchen we do now. The plinth (the area beneath the units) is dead space and is normally unused. A plinth drawer gives you a space you never knew you had. It is ideal for odds and sods. It also makes an adorable pull out for pet food and water bowls. They can be fitted with most kitchen units and add a good amount of additional storage.
5) Chopping board
Another fun kitchen addition is a pull-out chopping board. It provides extra working space in a tight galley kitchen. It feels good to use and can help you keep things clean and clear while you cook. I've seen some with a hole to put a bin beneath for easy clearing of peelings and scraps, something to try on a future project.
All things considered, drawers are a really great way to access deep spaces, keep things organised and make the best use of the space you have. They can be integrated into most pieces of furniture and modern drawers runners are reliable, look great (undermount are effectively invisible) work brilliantly and will last and last. All sorts of spaces, shapes and sizes can be made and with heavy duty ratings on some runners the uses are almost endless. If you want some help getting the most out of the space in your home, then give us a call and let us design and build a gorgeous piece of furniture for you.